Women, girls and the most marginalised people are being hit the hardest.
As India battles a devastating second wave of Covid-19, frontline workers including and women domestic workers caring are being left without access to protective equipment and exposed to infection.
As ActionAid we are providing much needed support to vulnerable workers and communities, including safety and sanitation kits, and food relief for thousands of informal workers, who are on the frontlines of the Covid crisis.
Helplines, run by ActionAid India across Delhi, Haryana, Himachal Pradesh, Punjab and Uttar Pradesh, are tackling misinformation by providing up to date information on the availability of hospital beds, oxygen cylinders and Covid vaccines.
Sandeep Chachra, Executive Director of ActionAid Association India, says:
"This devastating second wave of Covid-19 infections is leaving India's army of informal and migrant workers more vulnerable than ever. We have people who are working around the clock to bury the dead and women working in people's homes to care for the sick and dying, all with little protection or support.
Covid vaccines must be made available for everyone, free of charge. We also need to support our workers and communities with protective equipment, testing and public health information to help prevent the spread of the virus and protect the most marginalised."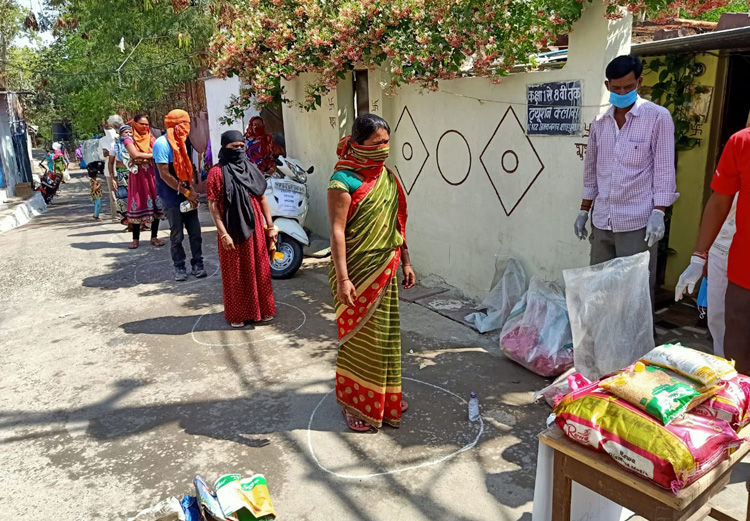 Women, girls and the most marginalised are being hardest hit by the second wave. ActionAid India is seeing a further surge in vulnerability as movement restrictions, cramped living conditions, stress about jobs and the virus, are putting women and girls, and all those in informal work at risk.
Sion Kongari, ActionAid India's regional manager of programmes in Rajasthan and Gujarat, says:
"Women and girls hadn't recovered from the impact of the first wave of the pandemic when they were hit by this rapidly escalating second wave. Since the start of the pandemic, we have seen rising violence against women and girls, increases in child marriage and sexual exploitation. As the majority of rag pickers, domestic workers and street vendors, women are either prevented from working due to restrictions or facing greater risk of infection."
Ms Kongari and her team have been working to break down the stigma surrounding covid vaccines and share vital information about medical services with vulnerable communities. She adds: "This time the need for medical help is being felt in a much more pronounced manner. We need to rapidly evolve community-based medical support and shore up our decaying network of primary health centres to ensure that all communities are provided with much-needed medical assistance."
As ActionAid we have been working in India with the local communities and local partners since 1972.
Please, help us respond to the Covid-related crisis now
Photocredits: ActionAid India