Food and fuel prices have more than tripled in some of the world's most at-risk communities
According to a recent analysis by ActionAid, in some of the world's poorest communities the cost of food, fuel and fertilizers is skyrocketing.  Land families are, therefore, forced to spend double, triple and, in some cases, almost four times what they paid before the war in Ukraine.
While the average cost of wheat products, such as pasta, has increased by more than 50% in local markets and communities in the 13 countries examined, households in Lebanon, heavily dependent on imports from Ukraine and Russia, are spending up to 275% more than at the end of February. 1
In the Horn of Africa, where 20 million people are already facing severe famine due to the prolonged drought, Somaliland communities are now spending more than double (163%) on a loaf of bread. Average cooking oil prices have increased by more than 60%,but in some areas of Somaliland, costs have increased by up to 260%.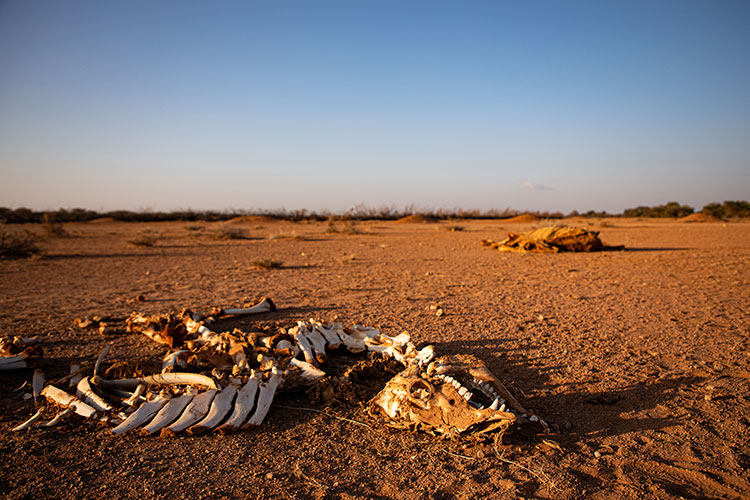 Last month, the Food and Agriculture Organization of the United Nations (FAO)  found that world food commodity prices have reached their highest levels ever.
Teresa Anderson, Global Head of Climate Justice at ActionAid International, says:
"The conflict in Ukraine has created a disproportionate increase in the costs of food, fuel and fertilizers, severely affecting local communities that can barely survive.
The world is on track for a global food crisis that looks set to be far more deadly, devastating and prolonged than that of 2007-08. Governments and international institutions must take urgent action to avoid catastrophic hunger on an unprecedented scale."
In order to afford to buy food, many mothers have withdrawn their children from school. Many of them have expressed their grief at being able to provide only one meal a day to their children.
Sagal, 40, a mother of two, says:
"Every mother feels pain when her children don't eat. I feel pain every day."
Other people have said they got sick drinking dirty water from ponds, and many families are going into debt to cover essential expenses, such as medical expenses.
ActionAid calls on the governments of the involved countries to immediately introduce social protection measures, aimed at women and girls, including money transfers, food support and free school meals, to assist most at-risk families. 
Help us support the most affected families. With your support, we can change the lives of many mothers and their children.
__________________________
Methodology:
ActionAid staff conducted the survey in 41 markets and local communities in 13 countries between 4 and 23 April. They asked 657 market traders and community members how much grain, cooking oil, gasoline, cooking gas and fertilizer products cost before February 24 (the start of the war in Ukraine) and how much the same items cost on the survey date.   
A consultant working with ActionAid then calculated the percentage change. The results can be found here.
The countries that participated in the survey were: Democratic Republic of the Congo;  Ethiopia;  Haiti;  Kenya;  Lebanon; Malawi;  Mozambique;  Myanmar;  Nigeria;  Palestine;  Somalia;  Zambia;  Zimbabwe.
Photocredits: Mahelder Haileselassie/ActionAid; Daniel Jukes/ActionAid