April 20th.
The risk of trafficking and sexual exploitation for women and girls is exacerbated at the borders of Ukraine
Ending up in trafficking, suffering violence, scams and labor exploitation. These are the greatest risks for women and girls fleeing Ukraine that are emerging since the war began. Dangers that materialize in neighboring countries, such as Poland and Romania, but also that are found in the countries of arrival. First reports of bait ads on social networks for unsafe accommodation and "at-risk" jobs are arriving.
We at ActionAid, with local partners, are working to ensure the protection of women and girls.

- In Poland, on the border points of Dorohusk, Hrebenne and Zosin, we give support to 3,500 families, especially single women with children. In addition to the prevention of violence and abuse, we provide psychosocial and legal support with therapists specializing in trauma management who speak Ukrainian, Polish and English, as well as with social workers who can provide references for work, accommodation, and other support services.

- In Romania, in the localities of Tulcea, Isaccea, and Sirat, we deal with prevention at border entry points and reception sites with a program to combat trafficking and gender-based violence. We also provide shelters, psychological support, and money transfers to support women in their needs.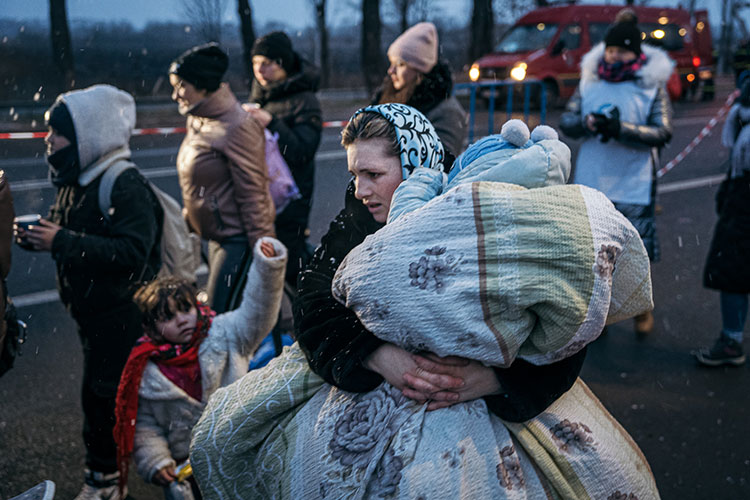 Thanks to the legal assistance service, we are also guaranteeing access to public services such as health, employment, housing, and, the school for children.
With our intervention, we are sustaining so many women and girls at risk of trafficking and sexual exploitation, but there are still many who urgently need your support.
Please, support our intervention: DONATE NOW.
Photocredits: Andrei Pungovschi
March 28th
Our intervention on the field.
Since the start of the Ukrainian crisis, more than 2 million of people have already fled the country. UNHCR has estimated that the number of refugees could reach up to seven million people, turning it into the largest refugee crisis in Europe this century.
In Poland alone, 1.9 million people have now crossed the border seeking refuge. There are many women with children, but also the elderly and disabled, in need of assistance, temporary housing and passages to other locations.
The risk of violence against women is very high, we know that it is always amplified in emergency situations.
Part of our international humanitarian emergency team is currently in Dulsk, a locality close to the border with Ukraine, to collect testimonies and provide assistance:
We at ActionAid are working with our local partner organizations in Ukraine's neighboring countries,  to provide immediate humanitarian aid and create safe spaces to prevent incidents of gender-based violence and offer psychosocial support, especially towards women and children.

Thanks to our network of local partners, we distribute food, water and hygiene kits in the countries that are welcoming refugees in the coming hours.
Please, support our intervention: DONATE NOW.
We call for the immediate cessation of hostilities
As Russia continues its shocking military attack on Ukraine, we are horrified by the loss of civilian lives and the threat of violence and suffering that families across the country are facing.
We call for an immediate cessation of hostilities, and respect for international human rights and humanitarian law.
Paras Mani Tamang, Deputy Humanitarian Director of ActionAid International says:
"Civilians have already been killed in this terrible Russian invasion of Ukraine. People's lives will be destroyed with devastating consequences.
Women and girls during conflicts and emergencies are at greater risk of gender-based violence and exploitation increases, while access to essential health services is blocked. Thousands of families are already fleeing to neighboring countries and must receive protection. We stand in solidarity with the Ukrainian people and all those affected by the violence."
Faced with the return of war in Europe, a nightmare that we hoped to have left behind, we are convinced that the only way forward is democracy.

Join us in supporting the population fleeing war,